Foundation.101
Protection of the rights
and freedoms of Ukrainians
News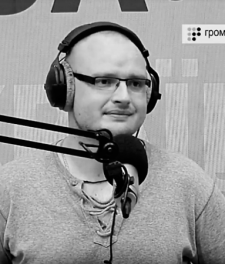 Andrii BOGDANOVYCH on the "Hromadska Khvylia" program
August 8, 2018
You are listening "Hromadska Khvylia" on Hromadske Radio with Serhii Stukanov and Yevhen Pavliukovskyi.
The rubric "With your own hands" is about how active citizens change the country.
In our studio today, Andrii BOGDANOVYCH, a public figure and founder of the NGO "Foundation.101", which, in turn, has created the mobile application "KARATEL" and positioned this project as the All-Ukrainian Complaint Service.
Let's try to describe in two words how it works: you download the app on your smartphone, if you want to complain about some violation to local or general authorities, then take pictures or video of the problem, send it through the application, there it is processed out by lawyers of F.101 team and sent to the appropriate authorities who responds to it, after some time the answer comes on your smartphone. Did I correctly outline the algorithm?
Exactly. The essence of the mobile application is that you can easily complain about the offense. We have a number of categories that can be used to send complaints: pits on roads, damages of city amenities, expired food, smoking in food establishments, etc. User installs the application, take a picture of the problem, briefly fill out information (the address, where it was happened) and sends it. The application comes to our organization, our lawyers process it in case they see that the problem exists.
We have a certain algorithm how we reject appeals with fake information and so on. Even at the technical level, fakes are cut off. When we accept the application, we write an appeal to that authority and sometimes to private structures who are responsible to fix this violation. We work in accordance with the Law of Ukraine "On Appeal of Citizens", but on behalf of our organization. That is, the personal data of the person who sent us information does not appear in the appeal. The authority has a month to review and provide an answer. It takes approximately a month to receive the answer, then we upload the provided answer into the system. A user can check the official answer to the appeal in a mobile phone.
That was the reason why we launched this project. It has operated this way for about a year. Now we have innovations, I will also tell about them.
So in fact, the system operates as a book of complaints. A person, through your mediation, can solve the problem with the help of various institutions of the state. But at the same time, the application itself is called KARATEL. Therefore, I will ask a respective question: how many institutions you were managed to "punish" over the time of the project's existence?
Of course, there is a certain marketing component. The name was supposed to be "catchy" to make a person to try our application.
We have been working from April 20, 2017. We have just over 18,000 users. In total for more than a year of our existence, we have processed about six thousand appeals. If we talk about performance, then, as a rule, 85-90% of problems are solved. Of course, not always. Sometimes the answer comes that there is currently no means to fix this problem, or something else. But in most cases it is solved.
In order to maintain the work such an app, you need an office, a group of specialists who obviously do not work on a charitable basis. How did you manage to organize everything? And what did it all begin with?
Everything started with the idea of making a service for "lazy complainants", because most people do not know where to apply or how to write an appeal. Or, for example, you can go, get into a pit or puddle, you are outraged, on emotions, and while you get home, even if you know how to write such kind of appeals, you have already cooled down and you do not want to do anything.
Answering the question how we began, we did it together with the People's Project crowdfunding platform, which, in our opinion, is one of the most transparent platforms in Ukraine. We launched a fundraising project, raised funds for its implementation, and maintain the entire project team for more than half a year. Now we collect funds through our site, we ask our users for support. We even made it possible for our users to become our sponsors by donating a certain amount of money on a monthly basis to support our project. A user can choose a regular support or one-time payment. To do this, you need visit the site karatel.ua and fill out the form. For our sponsors we make different gifts, for example, we send our souvenir products.
Tell us, please, about some success stories that are most memorable.
In fact, there are many success stories. Almost every day we publish some of them on the social networks. Usually, the success stories that we publish consist of a problem statement (for example, a pit on the road), how it was fixed (with the photo-proof) and official answer.
By the way, about the photos, do you need to go to make them or do the officials send photos themselves that they have done something?
In the appeal to the authority, we attach pictures of the problem itself and ask to provide a photo confirmation of the work performed. They do not always do this. Sometimes photos sent by the authorities are not very good quality. Therefore, at the same time, we ask our users, in particular, who sent us this problem, if possible, to verify that everything was done and send us pictures. Very often users send a photo themselves. It sometimes happens that we have not yet been able to get an official answer, and the user already sends photos.
Do state structures demonstrate flexibility in cooperation?
Please note that we accept applications within certain categories. That is, you can not write us about everything. There is a fixed list of problems that we accept. The most popular among these categories are pits on roads and damages of city's amenities. The last category is quite wide, including is graffiti on the walls, uncollected rubbish, and so on. Among the cases that were successful, there is a bunch of pits that are covered, garbage that was taken away. Another common problem in Ukraine is graffiti as an advertisement for narcotic drugs. By the way, before we started this project, I did not even think that this is such a big problem. We get complaints about this very often but it always fixes very quickly.
How many people in total did you need to organize such a useful service?
There are currently two lawyers, one analyst, a PR specialist and me as project manager of the project. It turns out that five-six people are working on the project.
Does the speed of processing the requests solely depend on how competent the public authority that responds, or in case of minor violations, for example, do you appeal to housing cooperatives?
Now we have added a separate section, called the Book of Complaints, where we connect government bodies or private structures that are ready to work directly. That is, without processing the application by our lawyer. For example, we have already connected Kyivpastrans, Zhytomyrtransport, Kyivblahoustrii. If you want to apply to these three institutions, you can use this section and write directly to this organization, without processing by our lawyer. The answer also does not go through us. This is our new section.
If we talk about the speed of processing our regular applications, we process them within one or two days maximum, but the answer from the authority can come within a month.
In most cases, we send an appeal to local government bodies: local administration, city council, village council, as well as State Committee for Consumer Protection. Because one of the categories is the sale of overdue goods in stores.
How many applications do you receive on a day on average? Does this number increase? And how many requests do you capable to process during the whole day?
It differs from day to day. At the very beginning there was a lot: 50-100 applications on a day. Then the trend decreased a little. In winter there were days when there were no applications at all. With the onset of spring-summer seasons the flow began again by 30-40 applications a day. I can't said that the same number of applications came each day. We have not seen any regularities yet.
Are you going to expand? Are you planning to work with new areas?
We want to develop our mobile application in the context of the Book of Complaints. We will connect organizations that want and can work directly with the user. We also made a separate section "Video Learning", which will feature videos specially filmed for our users, such as how to behave in different situations. We'll talk about legal advice. There is already a video with the former representative of the Commissioner for Human Rights Irina Kushnir, she talked about access to public information, different kinds of information, etc. These videos are only available to users of the mobile application. We plan to supplement this section of the video on consumer rights protection, etc.
That is, the project is developing in parallel as an educational platform.
To some extent, yes. Perhaps as a separate direction, legal advice for citizens.