Foundation.101
Protection of the rights
and freedoms of Ukrainians
News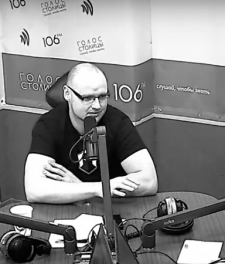 KARATEL on the radio "Holos Stolytsi"
April 25, 2018
You are listening "Holos Stolytsi" radio. Mykola Matveyev is in the studio with you. For more than a year "KARATEL" operates in the country. It is free of charge mobile application that lets you complain about violations in absolutely different areas. Andrii BOGDANOVYCH, the head of NGO "Foundation.101", project manager of All Ukraine Complaint Service "KARATEL", is a guest of our studio today. Within the next hour, we will speak about the experience of working with complaints and the Ukrainian audience on the "Holos Stolytsi" broadcast.
Welcome, Mr Andrii. Let's start with the fact that not everyone has heard about "KARATEL". You can see how many people downloaded the app as well as the number of people who use it. Let's start with statistics. How popular is "KARATEL"? And in the course of our conversation, we will tell: what is it, how it works, in which areas it can be applied, which consequences it has caused. Given that you already have a year of work experience. Let's start.
Hello. Yes, you are right, we are working a little over a year. On April 20, 2017, we launched the project, so our first anniversary was recent. Currently, almost 17 thousand users were registered in the system. These are users from all over Ukraine. Kyivers are the majority, of course. But the geography of our activity covers all the territory of Ukraine. Applications come from all over Ukraine. Among the categories available, there are damages of urban amenities (for example, uncollected garbage, broken benches in the park, etc.), pits on roads&nbsp— these two categories are in greatest demand.
By the way, what about road signs. Can I report this?
Yes, we received applications for road signs: either broken or not visible by the branches of trees.
We've just raised this topic on our air recently. And when we asked the road infrastructure inspector: "Where to contact, if a person wants to influence the situation, sees, for example, that the traffic light does not work, the signs are obscure or missing?", we've come to the conclusion that it is necessary to find out who is the asset holder, what is the name of that state body, to look for their phone number, and so on. It would be much better to have one window for submitting complaints, with a certain reaction to this complaint, where it would be possible to report any problem and not think and look for a telephone number of a certain official, etc.
Mr. Andrii, tell us, please, where did the idea "KARATEL" come from?
The idea emerged from the experience of my previous activity, public and political, during which I sent a lot of appeals and requests for information. I saw that this tool actually works, but many people simply don't know where and how to complain: someone doesn't know how to draw up the appeal, someone doesn't want to spend the time on it. But in fact, this mechanism works. A single application sent to a specific authority can solve your problem. Of course, not all cases are solved. From my experience, if we take in general all the areas on which a citizen can complain, the performance is about 50 to 50. But, if we talk specifically about our mobile application "KARATEL", in those areas that users send their appeal to us&nbsp— pits on the roads, damages of urban amenities, again, the road signs&nbsp— our performance is about 85-90 per cent.
Is it a false statement that filing complaints, appeals to the officials, is a vain thing? Firstly, it's complicated. Secondly, in fact it will not work.
I'm totally disagree with that.
Can an average citizen influence the situation?
Sure! Indeed, sometimes there are situations when you fail to succeed on the first try. You may receive a "run-around reply". This also happens, and in our practice too. But again, if you make a good professional appeal, if you show that you know the subject you are referring to, then the responsible official sees that you know the legislation, and understands that potentially you can complain about the "run-around reply". In fact, when you regularly write complaints, you become recognized for those authorities that you are constantly turning to. They know that it's better not to deal with you. So that's why, we decided to make such a service, that allows every citizen to easily submit a complaint in the categories of violations that we have foreseen. All information submitted comes to our organization, then it is considered by our lawyers and processed into a professional appeal. We send it in accordance with the Law of Ukraine "On Citizens' Appeal".
I'd want to draw attention that despite the fact that while registering in our app, people indicate their personal data (phone number, email, and name, the appeal is sent on behalf of our organization. It was made for us to understand whether a user is a real person, and to call or contact him/her in case if there are any questions about the applications submitted. Although, we usually do not do this, we have enough information that is provided in the application. Of course, if our lawyer does not see the signs of violation in the information provided in the application or if nothing is clear, then we refuse to consider it.
We have got the mechanism developed, thus, we know: where to apply, we see from which region the application has been received, which authority is responsible for the problem stated, and we write the appeal to that authority directly. And I'd like to draw attention that personal data of a person are not indicated there. We called it "semi-anonymous service". We address on behalf of our organization. The answer is also obtained by us. We upload it to our system. The user can check it out in our application.
You have a front office&nbsp— the person who finds out the problem and appeals to you. As a back office, you submit an appeal, receive the response from an official, and then you put it in the app. And the person&nbsp— the final consumer who complained about this problem&nbsp— sees the final reaction. Correctly?
Yes, everything is right.
Such an interesting system. Let's now find out which prospects do you see for your organization in implementing such a project? It is clear that there is a lot of work needs to be done: a lawyer receives a message, understands where to send it, draws up the appeal, then the response comes. How does it all work on a voluntary basis? Do you have any profits from this?
Firstly, we see this as a social project. Currently, it is not commercial. There are no ads in the app. The app is free of charge for users.
Actually, we launched it with the help of People's Project crowdfunding platform, our long-standing partners, we began to raise funds through their website. Due to the funds raised, we managed to create a mobile application and launch it. The salaries of lawyers who work on these applications were partly covered, as well.
As of now, we have started to do this on our own. We've appealed to our users since recently. We asked the users to support us: if they can donate some funds to support our activities on a monthly basis, we invite them to become our sponsors. We even put their names and photos on our site if they give us the permission. There are some sponsors among our users who prefer to remain anonymous.
It's something like Wikipedia does: free, useful information is freely available. But the source requires some resources for administrating, so, for a certain period, a collection of funds is announced. So your organization operates the same way. But, of course, so far the scale is not like Wikipedia's.
Could you tell, please, why "KARATEL"? Was there such an idea with the name from the very beginning?
To a certain extent, it is such a mockery of Russian propaganda after the events in the east began. But the logic was laid out such that a person could, in fact, punish the offender by using a mobile app. From this the name comes out. Obviously, this is a certain marketing step in order to attract people.
On the other hand, I understand that, in fact, this did not work. Because the application aims to solve problems rather than finding and punishing the specific perpetrator.
You said that behind the office, which is such a front office, there is the full office of lawyers operates. How many are them?
Two lawyers work on processing applications. We also have a PR-specialist and analyst. In addition, there is a back-office that works on this project.
Are there enough of the human resources available?
Yes.
Do you plan to expand the activities of the project? What is the dynamics of the number of appeals?
I would like to draw attention to the fact that immediately after launching the project, we held a press conference around 12&nbspp.m., and by the evening of the same day, we had two thousand registered users. The next day by the evening there were already four thousand. And by the end of the week there were already six thousand users. At first there was a very high dynamics. Then it fell a bit because the news hook had extinguished. But new users still appear systematically.
As of now, we receive 30-50&nbspapplications every day. In winter it was less. And with the beginning of spring activity has risen again.
So, you manage to process 30-50&nbspapplications per day with the efforts of two lawyers. Don't you need a staff extension?
We manage because, first of all, we have worked out all the mechanisms, we clearly understand the topics of appeals, where to apply; templates of appeals are ready.
And for you it is not as difficult as for an ordinary citizen?
In fact, when a person writes one or two appeals, the principle becomes understandable. It's more difficult to overcome yourself, take a photo of a pit, for example, draw up an appeal, etc. A person loses the determination before he/she reaches home, turns on the computer and finds the required information. Though, seeing a pit on the street, a person will be outraged and want to change it. Therefore, we chose the connection through the mobile application, rather than some kind of form on the site. Because the phone is in the pocket constantly. You take it, take a picture and send it.
In the app itself there is a photo fixation, right? Is it compulsory?
This is a must, and photos and videos (it's also allowed) must be done directly through the application. You can't upload them from the gallery. We did it consciously. Although, of course, it is a bit unconvenient for users. But we must clearly see that the photos were taken from the place of the violation and at the moment when it was fixed. that it is not edited or last year's photo. Secondly, we also get GPS coordinates in this way to understand where the point the photo was made.
But is it needed to write an address?
It is necessary because GPS does not always determine the place precisely. We ask users to specify the exact address. Then we are guided by these two parameters: the address and the point on the map. Then we understand that the violation really took place. Some resourceful users, realizing that there is no way to upload photos from the gallery, begin to take pictures of the monitor screen. We also track it.
Do you refuse to such applications?
Yes of course. It's not a distrust to a particular user. We send an appeal on behalf of our organization, we must know exactly that it is real, not a fake. Therefore, we took such a step.
Kind of a fuse from fools.
What about the responsiveness to the appeals. How long does this process last?
From the moment of fixation, when a person made a photo/video, the appeal is processed during the day. If it's not a weekend, because the back office is working on weekdays only. After processing by our lawyer, we send a letter to the authority. One month is required for consideration of the application according to the Law of Ukraine "On Citizens' Appeal". Some authorities are responding more quickly, in two weeks, for example. That is, the issues are resolved in two weeks. This is not necessarily a "run-around reply". It is noteworthy that with such kind of replies they wait till the last, it's an observation from our experience. Sometimes they do not respond at all, which happens very rarely. In such cases, we write a complaint and "knock out" this answer anyway. The answer comes after around a month mostly.
Usually, we contact the authorities through email and ask them to reply likewise. Very often an answer arrives through Ukrposhta, which also takes a certain time. In this way, the authorities complicate life for themselves and for us.
Information about the answer is clear. What about the elimination of the reasons for appeal? How quickly does the problem reported by the user solve?
The same, during a month. When the answer comes, it usually contains a solution to the problem. In response, authorities should provide a solution to this problem. Again, if we talk about roads, sometimes such answers come, that, as at present, we do not have the money to repair this road, but we put it into the budget for the next quarter/year. There is also such type of answers. But in most cases, be it a small pit, or a significant piece of road, if there is money in the city's budget, everything is repaired.
And do you add photo confirmations to the system while uploading the answer?
In our appeals, we ask the authorities to provide a photo confirmation of the solution to our problem. But, in general, they are not obliged to do so. And they do not always do that. However, sometimes they send. If there is no photo evidence from the authority or poor quality photos, we ask the user, if possible, send us a photo of the problem. In this way, we check that everything is done as we responded. Secondly, we publish in the Facebook and other social networks the stories of success: before and after, and the text of the answer from the authority is added.
You keep some reporting.
Yes. Almost every day we publish such success stories. You can go to the page of "KARATEL" in the Facebook and read everything.
We continue to talk about the All Ukraine Complaint Service "KARATEL". In addition to the areas of urban amenities improvement and road maintenance, what other issues users can solve through the service? Where to look for problems? Perhaps there is a rating of organizations that are more likely to respond to your calls or vice versa more slowly? What can you boast about?
At the moment, we have six categories that are available for filing complaints: pits on the road, damages of urban amenities, expired food in stores, smoking in restaurants, extortion of bribes and rudeness. In fact, the demand for bribes and rudeness of appeals is very low, since it is objectively difficult to detect violations. For these categories, we ask for a video exclusively, because it is difficult to confirm the violation on the photo. But in other categories, there is activity. The most popular is the "pit on the road" and "violation of urban amenities"&nbsp— 50 to 50. Less - expired food and smoking in restaurants. If you estimate it as a percentage, then about 40&nbspper cent have pits and improvements, this is from all appeals, and for the rest&nbsp— 20&nbspper cent&nbsp— there are other categories.
Who most actively cooperates and solves the issues?
If you talk about the provider of the answer, it all depends on the territory where the application was submitted. Given that we have the largest number of users in Kyiv, the Kyiv City State Administration receives the largest number of appeals from us and is most active in charge. Of course, each authority, in accordance with the Law "On Citizens' Appeals", must respond to a petition.
Fine. And the performance: who has fewer "run around replies", and more effective steps?
For an example, let's take our last rating (for the first quarter of 2018). It is worth noting that after receiving the answer, the user can evaluate it: whether he/she likes the answer was like or not. Essentially it is estimated whether the issue is resolved or not. We posted a rating based on user ratings. If we talk about the number of appeals that submitted to us in the quarter, then we processed 591&nbspapplications for the first three months of this year. Talking about Kyiv, 260&nbspapplications out of 591 applications were from the capital city.
We make a general rating on all the authorities we are addressing. But where there is high activity, such as in Kyiv, we are still ranking the areas that most responded to our appeals. Desnianskyi district became the best district administration in this ranking, 90&nbspper cent of the cases were resolved. I emphasize that this is based on users' evaluation. Svyatoshinskyi District Administration also has 89&nbspper cent, Pecherskyi&nbsp— 84 per cent.
Who does perform the poorest results?
In the last place Solomyanskyi District State Administration&nbsp— 64 per cent. But, in general, it is also quite good performance. On the second place from the end places Obolonskyi district — 69 per cent. And on the third Shevchenkivskyi district with 74 per cent of the effectiveness.
In general, more than half of the problems are solved. The areas we propose are very specific in our field, we clearly act on them. If a person is not prepared at all, then he/she can expect on 50 per cent of solving the issues. If this is a professional appeal, as we do, then our performance reaches 90 per cent.
If not to the local self-government, where else are you transmitting your appeals? We know that you have certain direct contacts with organizations, where you can send an appeal through "KARATEL".
Yes. At the end of 2017, in December, The Book of Complaints, a new mobile application screen appeared. What is its difference in work: we there connect organizations that work, in essence, directly. All appeals received through this section go directly to that authority or to the organization that is connected to it.
Bypassing your office and without preparing an appeal or complaint by your lawyers?
Yes, we do not process these applications.
With whom do you already have a positive experience of cooperation?
To the "Book of Complaints" we have connected two organizations&nbsp— "Kyivpastrans" and "Zhytomyrtransport". Again, the difference is in the fact that all these appeals go directly to these organizations, we do not control the entire stage of the appeal. It turns out that the organization that connected to the "Book of Complaints" should be interested in giving its clients, in fact, a productive answer.
But is it based on your platform?
Yes, based on our platform. I would like to note that Zhytomyrtransport is very active in this regard: they receive more appeals than Kyivpastrans.
And do you see what the users write?
At this stage, we have the technical ability to view applications. But we do not do this. This is a direct correspondence between the organization and the consumer.
Another difference is that the contact details of the person are transferred to the organization. We warn about this in our mobile application. The connected organization can respond directly to email or call the user, informing what was done.
At the moment, we are negotiating and we will connect soon "Kyivblagoustrii". There will be appeals and complaints about the parks in Kyiv: for example, a broken bench, uncollected rubbish, etc. This will probably be a narrow category. However, we do not stop accepting applications for this topic because of our category "Damages of urban amenities". Just to speed up the solution of the problems, occurred in the park areas in Kyiv, users will be able to apply directly to Municipal Company "Kyivblagoustrii". But this is a small announcement. So far, Kyivblagoustrii is not yet connected.
Besides Kyiv, in which other regions or cities do you have a good activity?
In fact, everything is proportional to the population of cities. The big city, for example, in Kharkiv, there is the same number of appeals. In Lviv, Odessa, there are enough appeals too. In general, the distribution corresponds to the population.
From small cities and towns?
Information is also coming. Problems are solving. Sometimes it happens that in small cities problems are solved more quickly than in large ones. There are completely different cases. I urge all listeners who hear us try to use it. Our site: karatel.ua. It's very easy to get a link to a mobile application there. Or just download it from Google Play or AppStore. If the listeners believe that this project is good, useful, they can financially support us through the site: to make a transfer once or register, and do it on a monthly basis and become our sponsor. We encourage our sponsors with small souvenirs with our symbols.
By the way, it's the interesting point about encouragement. Because we are talking only about complaints and problems. Is it possible to report about something nice through "KARATEL"? For example, do not complain, but help everyone enjoy it?
In fact, this is a new section, The Book of Complaints, where organizations that are directly linked, can potentially send a favorable opinion to the institution through it. But the categories we handle are targeted at specific issues we are helping to address.
In fact, the rating that we periodically publish is to some extent a praise for the authority that sees users satisfied with the solving of their problems. We share our rating on our large database of journalists and people who are subscribed to our newsletter. And send it directly to the authorities, as well.
Are there interesting, special, non-standard appeals?
Once there was a little funny case, quite revealing. A year ago, when we were launching, there was a pilot mode of operation. Our users were our friends only who tested our application. And one of the complaints was about the whitewashing of trees and curbs in one of the districts of Kyiv. As you know, according to the Law "On Improvement" this can not be done. An important point is that the picture was made through an apartment on the first floor of the house, so it was clear where it was made. The courier, who serves this territory, came to this man and told the following story, which took place before Easter: it was summoned by the head of the housing bureau and said that it is needed to whitewash all the trees before the holiday; she was doing this on her day off - whitewashed trees, curbs, and after receiving our appeal, she was again called by the head of the housing bureau and asked why she did it, why did not she know that this is prohibited by the law?!
On the one hand, it's funny. And on the other hand, it is quite revealing how the authorities sometimes work for us.