Foundation.101
Protection of the rights
and freedoms of Ukrainians
News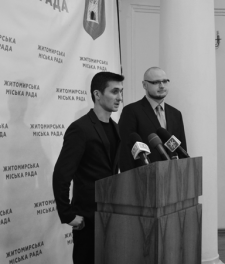 "Book of Complaints" — a New Feature for Users of "KARATEL" Application
December 8, 2017
Recently, the mobile application "KARATEL" has been upgraded to version 2.0, and now all registered users of the system are able to complain about the issues of urban public transport. Currently, there are two cities that are involved — Kyiv and Zhytomyr.
Since December 2017, the All-Ukraine complaint service "KARATEL" has begun to cooperate with utilities "Kyivpastrans" and "Zhytomyrtransport". From now on, every resident of these cities can report about various violations of public transport just in a few touches on a smartphone.
"Feedback from passengers of public transport is very important to me because every response, each complaint makes it possible to make transportation services more qualitative and comfortable. I hope for fruitful cooperation with the Kyiv residents and guests of the capital", said Serhii SYMONOV, the director of the Department of Transport Infrastructure of the Kyiv City State Administration.
After the last update in the mobile app "KARATEL", a new option "Book of Complaints" appeared in the menu. On this screen, each registered user can report about a violation or send a proposal directly to a profile utility company.
"To leave feedback or complaints through the app, you must specify the route number, state number of the vehicle or its onboard number, give a brief description of the problem and indicate when the problem was observed. You can also attach photos or videos to confirm your words", explained Dmytro LEVCHENKO, the director of utility "Kyivpastrans".
On December 8, a press conference devoted to the beginning of cooperation of KARATEL system with Zhytomyrtransport was holded in Zhytomyr. It was attended by Dmytro TKACHUK, deputy mayor of Zhytomyr, and Andrii BOGDANOVYCH, the founder of the All-Ukraine Complaint Service "KARATEL", and the chairman of the NGO "Foundation.101".
According to Dmytro TKACHUK, interaction with the mobile app "KARATEL" is an opportunity to improve control in urban public transport.
"Previously, all complaints from residents of the city came unsystematically: by mails, telephone, SMS-messages. From now on, all feedback will be centralized, and complaints will be processed in the shortest possible time", explained the deputy mayor.
According to Andrii BOGDANOVYCH, the mobile app will help accelerate communication between the transport utilities of Kyiv and Zhytomyr and users of public transport because the smartphone is always at hand.
"We see our system as a platform for complaints and proposals, and are open to cooperation with various government agencies and private entities", he added.
We emphasize that in the framework of cooperation with Kyivpastrans and Zhytomyrtransport all applications for violations in public transport will be sent directly to the utility without the participation of lawyers of the KARATEL system. So while sending a complaint through the "Book of Complaints" section, users agree that Kyivpastrans and Zhytomyrtransport will receive their personal data, which they indicated during registration in the mobile application.
For more information about the project All-Ukraine Complaint Service "KARATEL", please, follow the link: karatel.org.ua.