Foundation.101
Protection of the rights
and freedoms of Ukrainians
News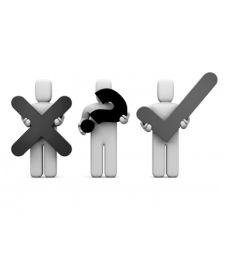 KARATEL reports in October 2017
November 6, 2017
NGO "Foundation.101" presents October rating summary of authorities and private entities within its project All Ukraine Complaint Service "Karatel". The sixth monthly summary rates 58 institutions in a range from State Service of Consumer Market Development and Consumer Rights Protection to Home Building Cooperative and Homeowners' Association.
Overall, 314 citizens' applications were processed in October. According to Karatel users' feedback, the evaluation covered state bodies in 20 regions: Bukovyna, Vinnytsia, Volyn, Dnipro, Donetsk, Donetsk, Zhytomyr, Zaporizhzhia, Kyiv, Luhansk, Lviv, Mykolaiiv, Odesa, Poltava, Rivne, Ternopil, Kharkiv, Kherson, Cherkasy, Chernihiv regions, and the City of Kyiv.
More than a half of proceeded applications were forwarded by inhabitants of Kyiv that puts them into the position of the most active users of the mobile app. In October, the biggest number of responses was received from Municipal Corporation "KyivAvtoDor" and several district administrations. The second month in a row Dnipro City Council also leads in the number of processed appeals. Assessing the activeness of reaction to appeals submitted, Kharkiv City Council took the third position. In addition, state institutions from Zaporizhzhia and Kherson proceeded more than 10 appeals each. Noteworthy, these regions have not demonstrated such high rates of efficiency before.
Overall, in October Karatel users assessed the work of the following organizations:
State Service of Consumer Market Development and Consumer Rights Protection;
9 region administrations in such regions as Kyiv, Dnipro, Zaporizhzhia, Odesa, Ternopil, Zhytomyr, Mykolaiiv, Luhansk, Cherkasy;
22 city and village councils including ones in Kyiv, Brovary, Irpen, Boyarka, Dnipro, Kryvyi Rih, Kamianske, Kharkiv, Zaporizhzhia, Berdiansk, Kherson, Odesa, Ternopil, Zhytomyr, Melen Village, Mykolaiiv, Chernivtsi, Poltava, Rivne, Chernihiv, Lutsk, Zhmerynka, Kramatorsk;
Municipal Company "Kyivavtodor";
Taras Shevchenko National University of Kyiv;
21 district administrations in cities like Kyiv, Dnipro, Kharkiv, Zaporizhzhia, Lviv;
Home Building Society "Upravdom" (located in Kyiv);
Homeowners' Association "Zhyvova 28" (based in Ternopil).
13 state bodies reached the highest feedback rate from the application users. Dnipro City Council was also close to the perfect performance: 37 appeals processed with 96 per cent efficiency. In comparison, Municipal Corporation "Kyivavtodor" had the second result in terms of the number of responses provided, but the efficiency of performance was only 63 per cent. Unlike the September rating, a majority of organizations (45 out of 58) provided responses processed positively — 50+ per cent of efficiency.
Meanwhile, the number of institutions that worked on the outcome below 50 per cent decreased almost twofold: 13 organizations in October vs. 24 organizations in September. Among those who underworked, Karatel outlines Kharkiv City Council (15 replies with 37 per cent of efficiency), Kyiv Regional State Administration (4 replies with 44 per cent of efficiency) and State Service of Consumer Market Development and Consumer Rights Protection (4 replies with 13 per cent of efficiency).
In October, all 10 district administrations in Kyiv reacted to Karatel's appeals and processed 125 users' complaints. The biggest number of replies was received from Shevchenkivskyi (25 responses) and Sviatoshynskyi (21 responses) districts. Among these two administrations, Shevchenkivskyi District Administration performed higher quantity with better quality (on average, 71 per cent of complaints has been solved positively).
In October the situation was similar to August when none of 10 district administrations in Kyiv didn't get the mark below 50 per cent. However, the main "lazybones" appeared here as well. The representatives of Darnytskyi District Administration in Kyiv processed 11 appeals with 57 per cent of efficiency.
The second month in a row, Podilskyi District Administration keeps the leading position, having processed the only complaint in October but with maximum efficiency.
In October, five out of seven district administrations of Zaporizhzhia City Council responded to the users' appeals. Komunarskyi and Khortytskyi district have scored the maximum mark. Voznesenivskyi District Administration of Zaporizhzhia City Council performed the worst, processing our appeals with 38 per cent efficiency.
Taking into account that, in October, the activity of responding from Lviv City Council has slightly decreased, the number of evaluated district administrations is also smaller. Only four out of six district administration have been evaluated. Halytskyi and Lychakivskyi districts in Lviv processed Karatel's appeals successfully. The first one works perfectly the second month in a row; while in September Lychakivskyi district administration was far from the first places.
Shevchenkivskyi District Administration of Lviv City Council simply refuses to do proceed with Karatel's appeals. The representatives of the state body should think about the reasons why none of the users' appeals has been processed properly for the last two months. Given that "Karatel" does not require anything more than their immediate responsibilities to residents of the district.