Foundation.101
Protection of the rights
and freedoms of Ukrainians
News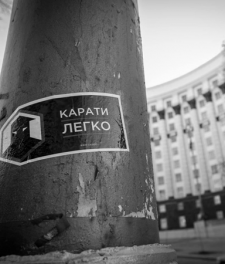 KARATEL reports in April-May 2017
June 6, 2017
NGO "Foundation.101" has summed up the results of the first month of operating "KARATEL" project. The rating of authorities and private entities was formed based on the users' evaluation who had received the replies on their requests earlier.
In total, the evaluation covered 33 organizations all over Ukraine: from State District Administrations and Departments of Patrol Police in cities to State Regional Administrations and supermarket chains.
100 per cent positive responding was provided by several State District Administrations of Kyiv, Lviv, Zaporizhzhia, Departments of Local Councils of Odesa, Sumy as well as Patrol Police from Chernivtsi and Kharkiv. Opposed to them, Kirovohrad Regional State Administration, Kyiv Patrol Police, Mykolaiiv Patrol Police, Odesa Patrol Police, and Bila Tserkva City Council didn't apply any efficient solutions to the claims of Karatel users. The indicator for Dnipro City Council is also close to zero.
Kyiv Patrol Police didn't submit a single positive reply. The "run-around replies" were sent on 171 appeals and nothing was done for punishing the offenders. The same situation happened at Patrol Police in Mykolaiiv and Odesa.
In opposite to such "run-around replies", we have got an example of efficient responding. Departments of Patrol Police in Kharkiv and Chernivtsi received 100 per cent according to users' evaluation. Local department of Patrol Police in Zaporizhzhia worked almost perfectly efficiently processing three out of four appeals.
Kyiv citizens were among the most active users of the service during the first month. For this reason, the rating of Kyiv's District Administrations is shown separately. Solomianskyy and Pecherskyy District Administration processed the biggest number of applications — 6 per each. At Solomiankyy District almost all the problems were solved. At the same time in Pecherskyy District, only a half of appeals were processed successfully. In Obolonskyy, Dniprovskyy, Desnianskyy, Darnytskyy, and Sviatoshynskyy District of Kyiv citizens' claims were reviewed and addressed appropriately.
In particular, Obolonskyy District Administration processed 4 appeals and managed to reach almost 100 per cent rating. Two out of two problems submitted were solved by Dniprovskyy District Administration. Offices of Darnytskyy, Desnianskyy, and Sviatoshynskyy District Administrations operated rapidly and efficiently, too.