Foundation.101
Protection of the rights
and freedoms of Ukrainians
News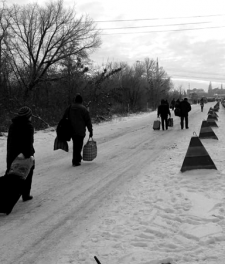 8 million people crossed the contact line in 2016
February 2, 2017
NGO "Foundation.101" conducted a thorough analysis of the data on number of people crossing the contact line in 2016. Data provided by the State Border Service of Ukraine contended information on the total number of people who crossed the line of contact as well as information about the direction of their movement.
The infografic above shows that the number of people who cross the contact line in 2016 increased by 4 million people compare to 2015 (4.05 million vs. 7.92 million).
In 2016 the loading peak on entry-exit control points occurred in August. General load on the control points in August was over 850 thousand people: 428 thousand civilians left the occupied territory, and 449 thousand civilians entered the occupied territory. Meanwhile in 2015, the loading peak took place in December: 321 thousand people exited the occupied territory, and 365 thousand entered it.
The prevailing direction (to the government controlled or uncontrolled area) of the flow differs from month to month. In particular, in January-February 2016 most of people moved toward the controlled area and conversely within the next 2 months. In May, June and July, the tendency of leaving the occupied territory increased again, meanwhile in late summer and early autumn the number of those who returned to the uncontrolled territory increased significantly. Noteworthy, in October and November 2015 the number of people who left the occupied territory and returned was about the same. In the end of 2016, there was a significant increase of the number of people moving to the occupied territory. The difference between those who travelled to the uncontrolled territory vs. those travelling to the controlled territory exceeded 30 thousand people.
The common tendency for both 2015 and 2016 is the increase of the flow of passengers and vehicles in the second half of the year.