Foundation.101
Protection of the rights
and freedoms of Ukrainians
News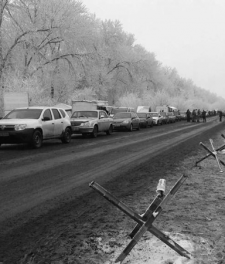 The Load at the Control Points in 2016
January 30, 2017
It has been almost a year of continuous operation of the five entry-exit control points at Donbas. In the beginning of 2016, they opened three more entry-exit control points ("Marinka", "Hnutove", "Stanytsia Luhanska") in addition to control points "Novotroitske" and "Zaytseve" that operated before. In November 2016, one of the control points was moved from "Zaytseve" to "Mayorske".
NGO "Foundation.101" presents infographics for each control point to show the dynamics of crossing the line of contact and the load on each control point.
Over a year, control point "Zaitseve" ("Mayorske") was the most loaded one. In 2016, 2.26 million people crossed the contact line through this control point. More than a half of these people were travelling toward the uncontrolled area — 1.18 million people (52.2 per cent). The highest loading peak occurred in April-May, and then the flow gradually decreased.
The second most loaded control point was "Marinka". In the mentioned period, 1.99 million people crossed it. Approximately a million of them (50.6 per cent) headed toward the uncontrolled territory. I the first half of the year the biggest load on the control points was in May while in the second part of the year — in October and December. It is noteworthy, that in August-December, the tendency of leaving the controlled territory increased monthly.
At "Novotroitske" the direction toward the occupied territory was more popular as well. The total number of people who crossed the line of contact through the "Novotroitske" is 1.86 million people. The loading peak occurred in July-August, followed by the decreasing of the flow every month.
As opposed to the mentioned above control points, most of the people who crossed the contact line through the "Hnutove", headed towards the government controlled area. 0.61 million people (52,2 per cent) from the total number of 1.17 million travelled to the controlled territory. The loading peak here took place in July-August.
The entry-exit control point "Stanytsia Luhanska", which is the only one in Luhansk region, was crossed by 1.32 million people. As it was at "Hnutove", the majority of people who crossed the contact line passed it towards the controlled area. The loading peak was noted in August.