Foundation.101
Protection of the rights
and freedoms of Ukrainians
News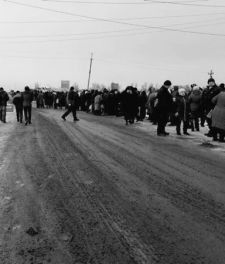 The Survey of Citizens at the Control Points in December
January 6, 2017
NGO "Foundation.101" has summed up survey of the citizens who crossed the contact line in December 2016. Within the polling oranization polled 2,695 people at the operating control points in the Donetsk and Luhansk regions. The activities are a part of organisation's "Frontline Inspection" initiative.
Summing up the data collected at entry-exit control points "Mayorske", "Marinka", "Novotroitske", "Hnutove" and "Stanytsia Luhanska", it turned out that the main causes of concern while crossing the contact line (long queues, shelling, and waiting conditions) lost from 2 to 9 points over the last months. Thus, the presence of significant concentrations of passenger-transport jams worried 78 per cent of respondents in December in comparison with 81 per cent of interviewees in November (minus 3 points). In December, the threat of shelling concerned 47 per cent of respondents compare to 55 per cent of respondents in November (minus 8 points). Waiting conditions in the queues in December were unacceptable for 26 per cent of respondents versus 37 per cent in November (minus 9 points). Also less respondents expressed concern about mining roadsides in December compared to the survey results in November (7 per cent vs 9 per cent).
In December 2016, the main reasons for crossing the line of contact through the entry-exit control points in the Eastern Ukraine, are visiting relatives, shopping and cash withdrawals. In December, 38 per cent of respondents mentioned they travel to visit relatives and for shopping each. Comparing the survey results in November, "visiting relatives" lost 3 points, while shopping, in contrast, added 3 points.
In the same time, significantly less people responded that they travel to withdraw the cash. In November it was 32 per cent vs. 27 per cent in December (minus 6 points).
Solving problems with documents, work and checking property are at the fourth, fifth, and sixth place in the list of reasons for crossing the contact line correspondently.
In December people chose "checking property" more rarely than in November — 9 per cent versus 13 per cent (minus 4 points). Solving problems with documents were mentioned by 2 per cent of respondents less in December compare to the previous month, which resulted in 15 per cent. Also, in December, the indicator "work" decreased least of all in comparison with indicators in November — 9 per cent versus 10 per cent.
Noteworthy, Foundation.101 notes a tendency to decreasing the number of people who travel by car and didn't manage to cross the contact line till the end of the day. In December, it reached 8 per cent, while in September it was 23 per cent.
The survey of the citizens on the line of contact covered the period from 1 to 31 December, 2016.