Foundation.101
Protection of the rights
and freedoms of Ukrainians
News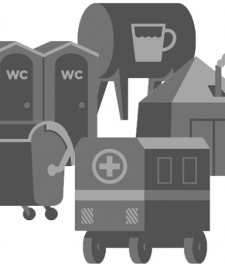 The Conditions at the Entry-Exit Control Points in December
January 4, 2017
In December 2016, the monitors of the NGO "Foundation.101" have visited all operating entry-exit control points on the line of contact for 9 times each within the "Frontline Inspection" initiative. The observers of organization, in particular, checked presence of drinking water, sanitary conditions of toilets and condition of roadsides near the entry-exit control points "Marinka", "Mayorske", "Hnutove", "Novotroitske" and "Stanytsia Luhanska".
According to the collected data, the pedestrian "Stanytsia Luhanska" became the cleanest entry-exit control point. The toilets were cleaned every day, drinking water was always available in the hitting tent of the State Emergency Service of Ukraine, and the roadside was clean as well.
Situation at the control point "Mayorske" was also acceptable. The monitors had no rebukes on the condition of the toilets and presence of drinking water. However, the problem of littered roadside is still unsolved. Although, in December the observers noted the fact of littering only during two monitoring visits (22 per cent of all visits).
At the control points "Novotroitske" and "Hnutove" there was the toughest situation with the condition of the toilets. All of them were in a poor condition, rarely cleaned. At "Hnutove" the toilets were dirty from the side of the uncontrolled territories. Dirty toilets were recorded by the monitors seven times (78 per cent of all monitoring visits) at "Novotroitske" and at "Hnutove" — eight times (89 per cent of the visits).
At "Marinka", the situation is unsatisfying because of the few issues. The monitors recorded poor condition of the toilets for several times (22 per cent of their monitoring visits). In addition, they reported about the littered roadside three times (33 per cent of the visits).