Foundation.101
Protection of the rights
and freedoms of Ukrainians
News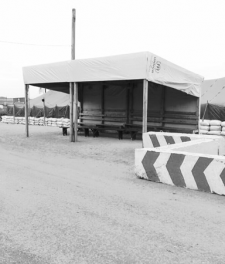 The Sanitary Conditions at the Entry-Exit Control Points
December 22, 2016
During the monitoring of sanitary conditions at all operating entry/exit control points in Eastern Ukraine that conducted within the "Frontline Inspection" initiative, the monitors of NGO "Foundation.101" have determined the number of toilets, garbage containers as well as checked presence of water in tanks, cleanliness of toilets and condition of roadsides near the control points.
The monitors of the organization conducted biggest number of monitoring visits to the control point "Novotroitske". During the 26 visits to the control point, monitors recorded dirty toilets 22 times, littered roadsides 8 times, and once absence of water.
The control points "Marinka", "Mayorsk/Zaytseve" and "Hnutove" were visited by monitors of the organization 25 times each.
The best situation with water and cleanliness of toilets are at "Zaytseve/Mayorsk". There were no recorded cases of the absence of water or unsanitary condition of toilets. But the issue of "littered roads" remains unsolved there. In 56 per cent of the visits (14 times) the roadsides were significantly littered.
Unsanitary conditions of toilets at "Marinka" and "Hnutove" were recorded in 12 cases each, that is 48 per cent of a general number of visits to these control points. Meanwhile the roadside at "Hnutove" was littered in 14 cases (56 per cent), and at "Marinka" in 21 cases (84 per cent).
The monitors visited the control point "Stanytsia Luhanska" 17 times in October-November 2016. There are no problems with water, but the cases of littered roadside were recorded five times (29 per cent) and there were six cases of dirty toilets (35 per cent of the visits).