Foundation.101
Protection of the rights
and freedoms of Ukrainians
News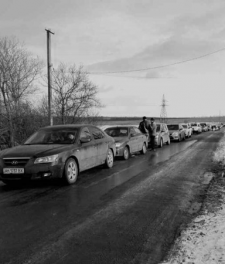 The Survey of Citizens at the control points in November
December 6, 2016
NGO "Foundation.101" has summed up survey of the citizens on the contact line for the period of November 1-30, 2016.
Citizens were polled during the monitoring visits to the entry-exit control points on the line of contact in Donetsk and Luhansk regions within the "Frontline Inspection" initiative.
Being one of the main reasons of people's concern, over the last month long queues added 5% to the rate compared to October (81% vs. 76%).
People's concern about threat of attacks has increased significantly: 55% in November vs. 34% in October.
Waiting conditions in queues at the entry-exit control points — as the third reason of concern of the people crossing the contact line — began to worry 5% more respondents than the last month.
The first three reasons for crossing the entry-exit control points are visiting relatives (41%), buying goods (35%) and cash withdrawals (32%).
Comparing the survey results in November and October, it is worth mentioning that the first indicator added 3%, the second — 8%, and the third one — 6%. Also in November, 3% more people noted "resolving issues with documents" as the reason of crossing the line of contact. Overall 15% of the respondents mentioned this issue as their reason to intersect the contact line. The number of people who were going to check their property increased by 1%, that resulted in 13%.
Overall, more than 3 thousand respondents were interviewed by Foundation.101 in November at the entry-exit control points in Donetsk and Luhansk regions.