Foundation.101
Protection of the rights
and freedoms of Ukrainians
News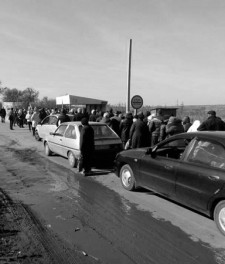 The Survey of Citizens at the Control Points in October
November 7, 2016
The monitoring of entry-exit control points on the contact line in Donetsk and Luhansk regions has been conducted for three months within the "Frontline Inspection" initiative. In October, NGO "Foundation.101" has conducted a survey of more than 2,500 people at the entry-exit control points "Mayorsk" (formerly — "Zaytseve"), "Mariinka", "Novotroyitske", "Hnutove", and "Stanytsia Luhanska".
Third month in the row long queues remain the major concern of people who are crossing the contact line. However, each month this point decreases by 1%. 76% of respondents have put this problem on the first place in October. 34% of respondents are mainly concerned with the shelling that takes place on the way. The number of people who are concerned about the conditions of waiting in queues has almost doubled in October. The percentage in August and September has coincided (17-18%), but in October it has increased to 32%. This point in the list of concerns came closer to "shelling".
The main reason that motivates people to cross the entry-exit control point is visiting relatives and friends (38% of respondents). In October "buying goods" returns to the second place (27% of respondents). "Cash withdrawal" is only one percent less than "buying goods" — 26%. For the first time this month "resolving issues with documents" has fell out of the first three main reasons for crossing the contact line. In August and September 26-27% of respondents were crossing the contact line to deal with their documents while in October only 12% travelled to do their docs.
The survey was conducted by observers of NGO "Foundation.101" on October 5-31, 2016.