Foundation.101
Protection of the rights
and freedoms of Ukrainians
News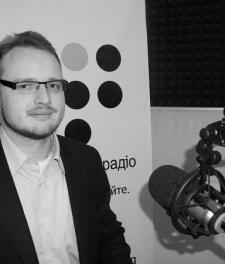 Andrii Bogdanovych Presented Final Results of the Control Points Monitoring
March 13, 2016
Chairman of the NGO "Foundation.101" Andrii Bogdanovych spoke about the report with results of the six-months monitoring as part of the "Frontline Inspection" project in the air of "Hromadske Radio".
Today Andrii Bogdanovych, the chairman of the NGO "Foundation.101", is in our studio. We will talk about the results of monitoring of entry-exit control points "Zaytseve" and "Novotroyitske" and about what will organization's observers monitor during the next few months.
One of the main problems is the mining of the roadsides — it is the first point in your report. How serious is it and have monitors managed to find out?
Observers of our organization have monitored the situation at the entry-exit control points "Zaytseve" and "Novotroyitske" for six months. We have started our work in September 2015 at the control point "Zaytseve". First, it was a pilot monitoring. After the methodology was tested and improved at the pilot stage, we added monitoring of "Novotroyitske". Our observers were at the control points daily until beginning of February 2016. They were constantly watching observation of human rights at the control points, the way inspectors communicate with people — polite or rude and other things. We identified and recorded some violations and immediately appealed to the relevant authorities: either to Border Guard Service of Ukraine, the Armed Forces of Ukraine, or the Center of Anti terroristic operation.
Currently, the first phase of monitoring is over. We have made the summary, highlighting the number of problems that, in our opinion, need immediate solution. From what we have recorded the first problem is, in fact, the mining of roadsides. Speaking specifically about the "Novotroyitske", roadside between the entry-exit control point and zero checkpoint on the contact line is mined. There are tripwires and mines there. Since entry-exit control point has no toilets, and people can wait in queues for a long time, they have to stop in this area in order to satisfy their physiological needs. It puts them in the dangerous situation and put their lives into threat since the warning signs that are currently located there are small, rarely set, and, in our opinion, not enough to warn people about the danger.
What do you do in such cases? You see that there are no such signs at the potentially mined area, and you immediately appeal to the relevant authorities so that they can solve the problem?
Yes, of course, for each fact of violation we appeal to the relevant authorities. As soon as we have noticed this problem we wrote to the State Border Service of Ukraine.
And how have you noticed it? Did you see tripwires or mines? How do you see these flaws?
First, there were cases when people triggered a mine tripwire and died. These are not single cases, media is actually constantly writing about them. Our monitors react to this situation, see that there are very few signs and they are too small.
And if there is no such situation?
It is clear that our monitors are not experts on demining, they can't alone identify whether there are any dangerous devices. They observe situations that arise. We have monitored "Zaytseve" and "Novotroyitske" and found this problem at the control point "Novotroyitske". There were cases when people triggered a mine tripwire there, and our observers looked if there were any signs or not, were they of the proper format or not etc. We have appealed to the State Border Service of Ukraine, the Armed Forces, the Anti-terrorist center, and Donetsk Regional Military-Civilian Administration about the mentioned issue. The answers that we have received contained the information that these authorities threw the question to each other: the guards — to the armed forces, indicating that the issue is in their jurisdiction; who, in turn, threw it to Donetsk Regional Military-Civilian Administration. Thus, certain solidarity appeared.
Sorry for a bit cynical question, but in the end, it turns out that as long as nobody triggers a mine tripwire you will not monitor if there are any signs or not?
Our public observers do not interfere with the work of border guards and fiscal services in no way. Physically, we can only observe. If we detect something, we respond immediately. We do not have the opportunity to make any active actions: firstly, no one will allow us, and secondly, we have no such specialists.
Andrii, you have mentioned that you do not interfere with the work of authorities at the entry-exit control points. However, they do intervene into your job. There were attempts to stop your work. Please tell us more about it. How do you get out of this situation, do you stop the work of the monitoring group?
Yes, indeed, there were cases when authorities have tried to hinder our work. At the beginning of the monitoring everything was fine; all authorities have actively cooperated with us. Even the border guards sometimes called us to find out if their employees behaved well with people in certain situations and so on. But after a while there was a case when one of the employees of the Border Guard was passing by the control point, saw a car without a driver on the roadside near the control point and cut the tires of the car with a knife. When the owner returned to the car, he called the police, but when it arrived it was clear that the car owner was forced by the border guard's threats to give up his claims. We recorded everything, wrote a complaint and the next day at night somebody (our monitors are at the control points only during the day on working hours of the entry-exit control points) has cut the tent in which our observers worked.
Then, after a while, the inspecting group from the Anti-terrorist center came and when they saw our tent, they said that we have to move it 100 meters away from the checkpoint. We did what they have asked. The next day, when another monitoring group of the NGO "Foundation.101" came, they were not allowed to enter the territory of the control point.
What is the argumentation behind these actions?
The fact that it was an oral order of someone from the management center of the Anti-terrorist center. But, again, nobody called any names. Immediately after that incident, we wrote to the Border Guard, Anti-terrorist center and the Ministry of Defense. The most interesting thing is that we have received completely different answers: some said that it was not a requirement, but just a proposal to move the tent; others said that the mentioned situation didn't happen at all; a third party has acknowledged that there was such an order. In other words, we have received very contradictory answers. Coincidentally, our project was coming to the end; we have worked during the allotted three months, so the situation described above has not affected the objectivity of the results. But we are currently planning to resume our monitoring, that is why we will be appealing to the relevant authorities. This time we want to monitor all the operating entry-exit control points (there are five of them right now).
Entry-exit control points often stop functioning due to shelling. Do your monitors record that?
Throughout most of 2015 only two control points — "Zaytseve" and "Novotroyitske" have worked. So we monitored just two of them. The total number of provided entry-exit control points is 5-6, if I'm not mistaken. Some of them were opened, and some of them were closed because of shelling. In Lugansk region all of them were closed and never opened again. In fact, only these two entry-exit control points ("Zaytseve" and "Novotroyitske") have fully functioned. Once or twice, there were cases when "Zaytseve" and "Novotroyitske" were attacked while our monitors were at the place. However, without bad consequences for our monitors or people who were present at the control point at the moment.
Did shelling happen often?
Speaking of "Zaytseve" and "Novotroyitske" it did not happen often. During the six months that we have worked there, such situation occurred several times, not more. For other control points, I can't say anything. But as far as we know most of the time other control points did not work because of the constant shelling.
Andrii, does your new program include the monitoring of pedestrian control point in Stanytsia Luganska?
Yes. We will begin to look for observers to work at this control point over the next month.
By the way, how do you search them?
We involve local people who live near the control points. First, they are more familiar with the situation. In addition, it is more convenient to work there for people who live nearby. How do we look for them? We post the announcements on our site that we are looking for monitors in certain regions near certain control points. Then we look who responded. After certain verification we select people who we believe are suitable. Then we get to the place, carry out training on first aid (tactical medicine) and give general instructions. In addition, a representative of the Ukrainian Parliament Commissioner for Human Rights comes and tells what they should pay attention to, what considers a human rights violation and what is not. This lasts for two days and then monitors can get to work.
Is this on a voluntary basis or is it a job?
Of course, their work is paid. The project was held and funded by the People's Project and USAID.
It is indicated in your reports that the monitoring took place up to February 2016. What will you do next? Will you continue the monitoring?
Yes. For the next month and a half we plan to resume the monitoring at the control points. First, we will resume our work at "Zaytseve" and "Novotroyitske" because we will engage already trained monitors who have worked with us before. They will start first. As for the rest entry-exit control points, we will start searching for local monitors and training them. We plan to carry out the project up to the end of the year. In other words, we plan to work for 9-10 months on a regular basis at all the operating control points on the contact line.
Now there are 8 points in your report. Do you plan to pay attention to these flaws at other control points?
The problems that we have identified so far still have to be resolved. In our opinion, they might take place not only at the control points where they were detected but at others, too.
Do they need solution since February? Do you monitor that?
We observe this from the moment of detection. We just made the overall results in February. For each of the problems identified, we immediately appealed to the authority, which was supposed to solve this problem.
Are there any results? Perhaps, opened criminal proceedings?
Unfortunately, we must admit that almost nothing is resolved. To somehow push solution, we have participated in the parliamentary hearings, which were held on the topic of internally displaced people. Also, we sent our recommendations to the Parliamentary Committee on Human Rights to bring our proposals to the parliamentary hearings. But it is quite a long process. First the Committee should receive these recommendations and vote for them. Then Verkhovna Rada should vote. And if all of this is taken into account and included, it will be an official document, which can be invoked. Then it will be more complicated to ignore our appeals by any authorities.
If it's a bribe, how can relevant authorities ignore it?
We are not able to actually record the bribe. There were no facts recorded that someone took the money at the control points. There even were cases when people put cash inside the passport and border guards returned it to them. This is what our monitors can see. But a lot of complaints from people are about queues. There are two types of queues to the control points: one is general one and another one is preferential. Either people with disabilities, elderly or passengers with children up to one year can get into the preferential queue to pass the control point quicker. And here people complain to us that you can get to the preferential queue without falling into these categories by paying certain amount of money. The amount that people have named is 200 UAH. Taxi drivers who carry people from the nearest settlement to "zero" checkpoint use this scheme, too. The queue is regulated by border guard, who stands half a kilometer away from the control point, and our monitors are specifically at the control point, we did not manage to record the facts of bribery. However, different people have repeatedly complained about that, so there is the high probability that the violation takes place. These were the people who were independent of each other, but mentioned the same facts.
Did law enforcement bodies pay attention to it?
In fact, if you occasionally look at what the Border Guard posts on their website, you can see messages about internal investigation and detection of offenders. They recognize the fact of bribery, and try to fight it. Border Guard Administration in Kyiv is not interested in covering these facts, because it casts a shadow on the work of the entire structure. But the point is that it all depends on the performers at the places. It is clear that when a person has at least small authority (for example, to make the man go back to the end of the queue or send somebody to the preferential queue), he may abuse it.
Andrii, do only ordinary citizens address your monitors? Were there any requests from border guards or fiscal service representatives?
It was not the purpose of our research. We have observed how the human rights are followed. But in any case we deal with border guards. As I mentioned, people in the administration of the Border Service are interested in monitoring of the work of their local employees.