Foundation.101
Protection of the rights
and freedoms of Ukrainians
News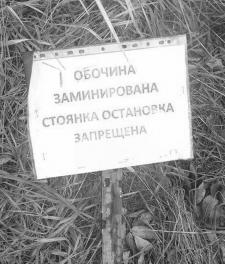 Many Tragedies Could Have Been Avoided
December 24, 2015
A man had blown up on a tripwire and died from blood loss while transportation to the hospital near Berezove in Donetsk region. Incident occurred last week in the area of control point "Novotroyitske" on the occupied territory.
Such tragedies are not solitary, and, as noted by the participants of the "Frontline Inspection", they could have been avoided if the Ministry of Defense of Ukraine would listen to recommendations.
A month before the tragedy, observers of the project that involved monitoring the control points of entry and exit "Zaytseve" and "Novotroyitske" in the Donetsk region, drew attention to the warning plates about mined area along the road to control points. They were unacceptably small, approximately A4 format.
NGO "Foundation.101" sent its suggestions to the General Staff of the Armed Forces of Ukraine, noting that plates of this size do not attract enough attention to citizens who cross the contact line. In response, they said that everything was done according to international standards. Although, further decided "to install barbed wire with warning plates of approved model". However, it wasn`t stated when that will happen.
Meanwhile, the Ministry of Defense responded to the request specifying that the equipment and maintenance of control points of entry and exit in Donetsk and Lugansk regions and adjacent areas not related to the tasks of the Armed Forces of Ukraine. State Border Service of Ukraine also replied that it is not within its competence.
While these authorities shift responsibility to each other, we can state the fact that there is no structure ready to warn people of the danger to their lives.
NGO "Foundation.101" warns: when you move to or from a control point, do not stop at the side of the road, it can threaten your life.