Foundation.101
Protection of the rights
and freedoms of Ukrainians
News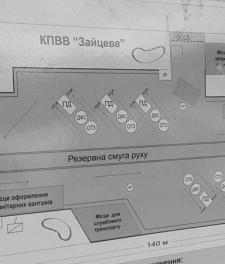 Foundation.101 Restores Monitoring at Checkpoint "Zaitseve"
November 15, 2015
After a month of a break NGO "Foundation.101" resumes its monitoring at the checkpoint Zaytseve" (road corridor "Horlovka-Artemivsk") in the Donetsk region on November 15, 2015. The monitoring is a part of "Frontline Inspection" initiative.
During the first visit, representatives of the "Foundation.101" observed the situation with utilities and conditions for people who wait it queues as well as polled the citizens regarding challenges and problems they face while crossing the contact line and the entry-exit control point.
Citizens mainly complaint on long queues and a lot of time spent in the expectation. Also citizens who travel to control point by bus and cross it on foot request for canopies to hide from rain and snow. Elder people complain on the lack of benches to have a rest at.
Observers recorded only one bench at the checkpoint which is not sufficient in opinion of "Foundation.101" given the number of people in the queues.
On both sides of the checkpoint there are 5 toilets (10 pieces overall).
Similarly, there are two tanks with industrial water placed on both sides of the control point (4 pieces overall).
However, according to representatives of the international organization "Doctors without Borders" they might stop supplying water and remove the toilets with the approach of winter and decreasing temperature.
On the road from Bakhmut (Artemivsk) to the checkpoint they placed 7 waste containers and from another side of the checkpoint 2 more containers. Additionally, there are 9 trash bins on the territory of control point itself.
However, roadsides with no trash containers nearby are pretty polluted. One can conclude that no one cleans the roadsides here.
"Foundation.101" will conduct monitoring at control point "Zaytseve" for the next three months. During the monitoring NGO's representatives will daily observer the situation at the control point, track and record any evidences of violations or corruption from.
The organization conducts similar monitoring at the control point "Novotroyitske".