Foundation.101
Protection of the rights
and freedoms of Ukrainians
News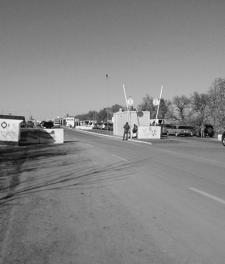 Foundation.101 has Started Monitoring at Checkpoint "Novotroyitske"
October 30, 2015
On October 30, 2015 NGO "Foundation.101" has started monitoring at entry and exit control point "Novotroyitske" near Volnovakha in Donetsk region. The monitoring will be conducted on a daily basis as a part of "Frontline inspection" initiative.
During the first visit monitors surveyed citizens who cross the demarcation line. People mainly complain on big queues and long waiting time, which can last for 5-7 hours. In few cases people claimed that they spent night near the control point when they didn't manage to cross it until the control point was closed for the night.
Currently the control points in Donetsk region work according to winter schedule from 8 a.m. to 5 p.m. Meanwhile in certain cases the working hours of the control points can be prolonged for another hour or hour and a half by decision of the ATO commander.
Citizens didn't not report suggestions from the inspectors to speed up the crossing process for financial or other compensation. Moreover, they note that Border guards and representatives of Fiscal Service of Ukraine behave politely.
The observes recorded sufficient amount of tanks with free drinking water near the control point.
NGO "Foundation.101" also recorded that there are free toilets, tanks with technical water and garbage containers near the control point. Free of charge water tanks and toilets are placed and managed by the Doctors without Borders mission. 
However, according to the "Foundation.101" the number of free toilets is insufficient which creates room for speculation on the issue. Some entrepreneurs have placed pay toilets nearby. 
Monitors also visited the Logistics center located near the control point. At the moment of the monitoring visit the number of trading places and range of products there was critically small: there were only two entrepreneurs working at the Logistics center. "Foundation.101" believes that it is insufficient to "unload" the control point from the flow of people that cross the demarcation line to buy food as it was the primer goal of the Logistic center. 
During the whole monitoring period (which will take place on a daily basis) the citizens can pass their complaints and suggestions regarding the crossing of the control pints to the monitors of the "Foundation.101". The monitors can be easily identified by the branded tent located at the entrance to the control point.