Foundation.101
Protection of the rights
and freedoms of Ukrainians
News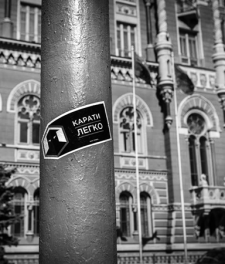 KARATEL reports in June 2017
July 5, 2017
All-Ukrainian Complaint Service "KARATEL", presents a rating of authorities and private entities over the second month of its operation.
The rating of authorities and private entities is formed based on the users' evaluation of authorities' reaction to their complaints submitted earlier.
The evaluation in June covered 75 state organizations and private entities that are twice as much compared to the rating in May. The rating covered such organizations as state services; police divisions; city, regional and district administrations; departments, offices and inspectorates of city councils; municipal companies of districts and cities, supermarket chain etc.
Efficient results were provided by the following 24 state organizations:
State Regional Administrations of Kyiv and Zaporizhzhia;
City Councils of Rivne, Zhytomyr, Ternopil, Izium, Kaniv, Kropyvnytskyi, Pervomaisk, Kovel, Sievierodonetsk, Novomoskovsk, Ivano-Frankivsk;
District Administrations in Kyiv, Kharkiv, Zaporizhzhia, Lviv, Haisyn, Kamianske;
Departments of City Councils in Dnipro, Kryvyi Rih, Chernihiv;
Patrol Police in Cherkasy, Kharkiv, Lviv, Uzhhorod, Mukachevo, Odesa, and Department of National Police in Netishyn;
Sumy Traffic Roads Regional State Service;
Municipal companies of Kiev and Zhytomyr.
Opposed to them, 20 state structures have nearly failed to react on citizens' complains:
Cherkasy State Regional Administration;
City Councils of Lutsk, Kolomyia, Uman, Bila Tserkva;
City District Administration in Mykolaiiv;
Departments of City Councils in Ivano-Frankivsk, Kharkiv, Odesa, Poltava;
Patrol Police of Kyiv, Vinnytsia, Poltava, Dnipro and Department of the National Police in Mykolaiv Region.
Noteworthy is that regional divisions of Police in some cases provided completely opposite reaction on the similar complaints. For example, Kharkiv Patrol Police considered the facts provided by Karatel users sufficient to start administrative case (in 8 cases — 63 per cent with the positive respond). A similar situation was in Lviv Patrol Police. They reacted positively in 52 per cent of all cases. Opposite to them, Kyiv and Vinnytsya Police did not react on a single out of 124 citizens' appeals. In their opinion facts and photos provided by citizens is not enough to bring people who break the law to justice.
Kyiv's District Administrations respond differently as well. The rating of Kyiv's District Administrations is shown separately because Kyiv citizens remain being among the most active users of the service "Karatel". Obolonskyi District Administration in Kyiv took a lead in the rating for the second consecutive time reaching 100 per cent indicator (the previous rating's indicator was 88 per cent) by efficiently processing four out of four appeals. Podilskyi District Administration enhanced its position significantly from 67 per cent in the previous rating to 90 per cent in the current rate. Solomianskyi District Administration strengthened its rate as well: from 75 per cent to 83 per cent.
Shevchenkivskyi District Administration appeared in the rating of "Karatel" for the first time. The effectiveness is at the middle level — 50 per cent.
There are also some "sloppy workers". Thus, Pecherskyi District Administration in Kyiv reduced its rate almost twice. While previously the Administration provided positive replies at least for a half of our appeals, now only for a quarter.
Additional visualization of the performance of 14 city councils is provided below.