Foundation.101
Protection of the rights
and freedoms of Ukrainians
News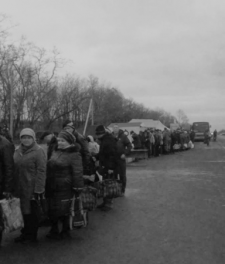 The Number of Registered IDPs Decreased in 2017
March 1, 2017
NGO "Foundation.101" requested an information on the total number of internally displaced persons (IDPs) in Ukraine as well as distribution of IDPs by regions as of the February 2017. Information provided by the Ministry of Social Policy of Ukraine is presented in the infographic below as a part of the "Frontline Inspection" initiative.
According to the information obtained, in February 2017, the total number of IDPs equals 1.63 million people. The decreasing number of officially registered IDPs is the first thing that attracts attention. The number of IDPs decreased by 70 thousands compare to October 2016. The figures are also lower by 7 thousand compare to December 2015. Thus, current number of registered IDPs is the smallest over the last year.
The regions with the highest concentration of the IDPs remained constant over the time. Most of the IDPs are registered in the three regions: Donetsk, Luhansk and Kharkiv. Although a certain reduction in official figures took place there as well. Thus, 631 thousand people lived in Donetsk region in December 2015, while in February 2017 their number decreased by 5 points and were equal to 545 thousand people. At the same time the number of officially registered IDPs increased conversely in Luhansk region. There were additional 48 thousand IDPs registered here. In Kharkiv region the figure didn't change significantly.
As for other regions of Ukraine, comparing the data in December 2015 with the data received in February 2017, the number of IDPs increased in Kiev by 40 thousand people, in Kiev region by 10 thousand people, in Odesa region by 8 thousand, in Kherson region by 3 thousand, in Zhytomyr region by 2 thousand, in Vinnytsya region by 1.6 thousand, in Sumy region by 1 thousand, in Lviv region by 1 thousand, in Ivano-Frankivsk region by 1 thousand, and in Volyn region by 1 thousand as well. Conversely, the number of IDPs reduced in Zaporizhzhya region (by 22.6 thousand), Kirovohrad region (by 1.5 thousand), Poltava region (by 1.5 thousand), and Chernihiv region (by 1 thousand).
At last, the number of IDPs remain fairly stable in Dnipropetrovsk, Cherkasy, Mykolayiv, Khmelnytskyy, Zakarpattya, Rivne, Chernivtsi and Ternopil regions.