Foundation.101
Protection of the rights
and freedoms of Ukrainians
News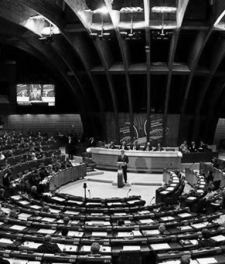 What Happens to the Pensions of Donbass Residents?
October 25, 2016
On October 27, 2016 at 12:00 p.m. public organization "Ukrainian Institute for the Future" (the address is Kyiv, O. Gonchara str., 65, floor 6.) will hold a round table titled: "The impact of PACE Resolution on Ukrainian policy at the occupied territories. Is Ukraine responsible for payments of pensions and social assistance at the occupied territories?".
The speakers of the round table are:
Andrii Bogdanovych, NGO "Foundation.101"
Oleksandr Yevsyeev, NGO "Ukrainian Institute for the Future"
Nataliya Veselova, Deputy of Ukrainian parliament
Oleksandra Dvoretska, Charity organization "Charity fund "East-SOS"
Yurii Gukov, NGO "Kharkiv Human Rights group"
Lidiya Kuzmenko, UN Refugee Agency
Serhii Mokreniuk, NGO "Euromaidan-Crimea"
Olga Gvozdyova, NGO "Donbas SOS"
Anastasia Bondarenko, Stabilization Support Services
Larysa Zalyvna, Luhansk Regional Women's Human Rights Organization "Chaika"
In addition to the speakers above, about 40 representatives of public organizations, ministries and departments will participate in the discussion of the mentioned issue.
The event is organized by the NGOs "Foundation.101" and "Ukrainian Institute for the Future".
Note. On October 12, 2016 Parliamentary Assembly of the Council of Europe adopted the resolution number 2133. Fourth paragraph of the Resolution mentions the following: "Under international law, the Russian Federation, which exercises de facto control over these territories, is responsible for the protection of their population. Russia must therefore guarantee the human rights of all inhabitants of Crimea and of the "DPR" and "LPR".".
The adoption of this resolution allows to take a new look at Ukraine's commitments on paying pensions and social assistance at the occupied territories — whether Ukraine has to continue the payments and what the consequences of adoption PACE resolution to the occupied territories will be.