Foundation.101
Protection of the rights
and freedoms of Ukrainians
News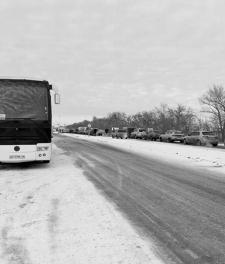 From Now on People with the Paper Permits are not Allowed to Cross the Contact Line
January 2, 2016
Citizens who have paper permits to cross the contact line were not allowed to pass the control point of entry and exit "Zaytseve" on January 2, 2016. This fact was recorded by the observers of the "Frontline Inspection".
As the headquarters of the Anti-Terrorist Centre of the Security Service of Ukraine explained to the representatives of the NGO "Foundation.101", the information about citizens who had paper permits with validity up to December 31, 2015 inclusive, had to be put into the database of electronic passes, but it wasn't done because of New Year holidays. That's why mentioned problems appear.
Owners of the paper permits which expired earlier than December 31, 2015, have to contact the coordination center once again to get the electronic ones.
At the same time the situation at the control point "Novotroyitske" is slightly different. People with paper permits which expired on December 31, 2015 crossed the contact line without any problems. Only those, whose permit had expired before the mentioned date, were not allowed to pass.